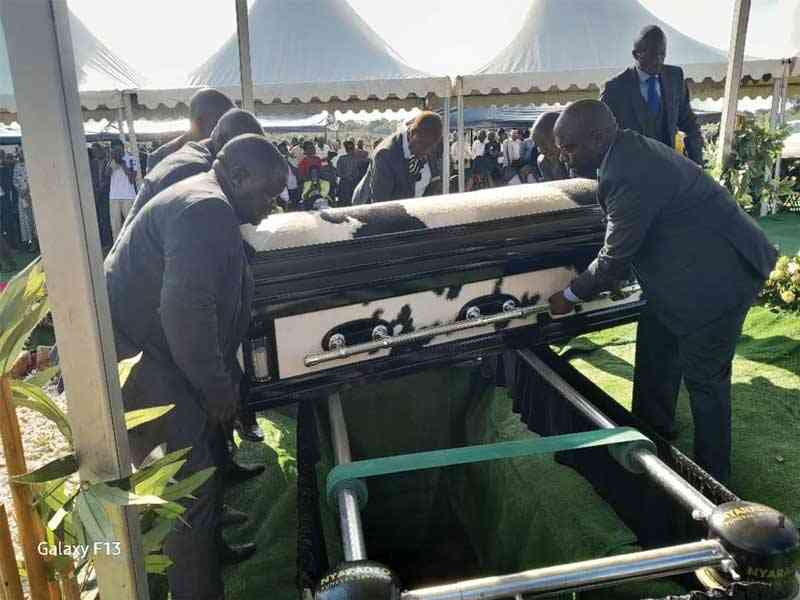 SCORES of Zimbabweans thronged Lady Stanley Cemetery in Bulawayo to pay their last respects to the legendary former Warriors and Highlanders player and coach Rahman Gumbo, who was buried yesterday.
Gumbo died in Botswana last week due to heart complications, aged 59.
A roadshow took the body of the late Gumbo to Njube at Desert grounds where he grew up playing then White City Stadium, home of Eagles, a club he played for in the top league before moving to Highlanders in the late 1980s.
It also passed through Barbourfields Stadium where he won the league title both as a player and coach and also Luveve Stadium.
Fifa president Giovanni Infantino sent his condolence message through a letter, which was read by Rosemary Mugadza during the burial service.
"I would like to express my sincere condolences on the passing of a former international player and a national team coach Rahman Gumbo. "Words seem inadequate to express the sadness as we feel the sadness of his loss," Infantino said.
"During his career, Rahman won several caps with the Zimbabwe national team and at club level. He will be remembered for his career with Highlanders Football Club. Following his retirement he started a successful managerial career, notably in South Africa, Botswana and Malawi, winning several league titles.
"He also coached the national team of Zimbabwe in three different stints....his legacy and achievements and particularly his personality, his leadership, popularity and his humanity qualities will not be forgotten. On behalf of the international football community, I wish to extend our deepest sympathy to the Zimbabwe Football Association, to the Gumbo family, friends and loved ones."
Mugadza represented the Zifa normalisation committee.
"We are passing our deepest condolences to the Gumbo family, especially to Mrs Virginia Gumbo. I thank God that you are a powerful woman, a person who fears and knows God. I am proud to be a product of Bulawayo. We used to be the super house of Zimbabwe both the Warriors and the Mighty Warriors. Where are we now? Let's go back to the basics and lead the country to the glory days where we were as a city," she said.
Premier Soccer League chairman Farai Jere referred to Gumbo as a true legend.
"He is a true legend. We have legends, we have former players but Rahman Gumbo served with distinction. He was different. Rahman Gumbo scored one of his trademark goals, which is trending on social media versus South Africa. Rahman Gumbo is like a soldier, Rahman Gumbo will never die. His name will never disappear because of what he did. His legacy will live on," Jere said.
CAPS United legends donated US$750 towards Gumbo's burial.
His son Bukhosi, gave a heart-rending speech.
"I learnt a great deal from my dad. "He was a legend. Many people called him different names, genius, maestro, goal poacher, I only called him daddy, simple and that was all to me and my siblings. He meant a great deal to people, some of them not here, in Malawi, in Botswana. You all know his life story,"he said.
Highlanders were represented by board member Elkanah Dube, who acknowledged Gumbo's contribution to the club.
The burial was attended by multitudes of Bulawayo residents, football stakeholders from across the country, football legends, administrators, coaches, politicians and football clubs in the country.
Morupule FC, the last team that he coached in Botswana was also represented.
Related Topics