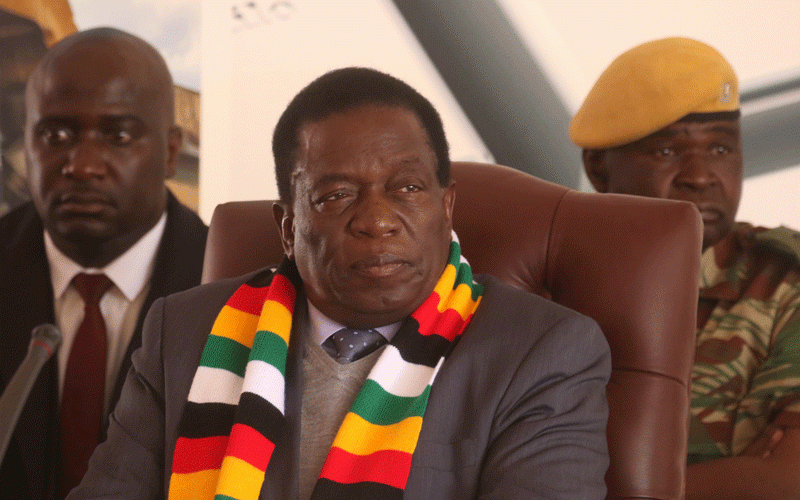 The one big fear that many Zimbabweans have confronted since the 2017 coup is the possibility of President Emmerson Mnangagwa turning Zimbabwe into a personal project.
There have been murmurs in all manner of corridor about how, after the 2018 elections, the president worked out a sweat, stuffing just about every office and aperture with fellow Karanga villagers.
People were — and still are — saying Mnangagwa was practicing reverse tribalism.
The late Robert Mugabe had become a master in that respect, getting Zezuru people and his relatives in just about every place, chimneys included. When he got into power, Mnangagwa tracked out the word "Zezuru" and replaced it with "Karanga".
If you ever wanted to doubt that, just look at who is heading the OPC, intelligence, the army, key ministries, public entities, etc.
And if you would still want to doubt that, just look at the manner in which he handled recent appointments following his inauguration for a second term.
Third, rather, considering that he was an interim president between late 2017 and the 2018 elections.
Here is a summary of what he did that must give you a solid reason to start rattling in your boots.
First, he re-appointed Kembo Mohadi as national vice president. Second, he appointed his son, Kuda David Mnangagwa, as a deputy minister in the finance portfolio. Third, he appointed another son—this one from the extended family—as deputy Tourism minister.
That's Tongai Mnangagwa.
Fourth, he repeated an absurdity that he was involved in, in 2018 by making more non-constituency ministerial appointments than the law permits.
He overshot the permissible number by two and later reversed this.
Finally, he omitted appointing a State Security minister. After standing down Owen Ncube in January 2022, the ministry has not had a substantive minister, and, as it looks, Mnangagwa wants things to stand like that, going forward.
All these decisions, by way of commission and omission, are telling signs of how Mnangagwa is turning things into his personal fiefdom.
That's one nice way to say he is turning himself into an authoritarian, dictatorial and self-centred leader.
You can safely say that he has shed the baggage of the military, so he has more room to manoeuvre without having to be accountable to anyone.
The military helped him replace Mugabe, so it had a sense of entitlement. It was, naturally, going to be difficult for Mnangagwa to make decisions that disregarded the military during previous tenures. Now, Mnangagwa went into the 2023 elections with minimal assistance from the military.
Instead, he chose Faz and the CIO to spearhead his campaign. That, apparently, was a strategic move to rid himself of the suffocating influence of the military.
David Mnangagwa's appointment to deputy minister bears all the marks of self-serving nepotism.
Clearly, as a way of preparing him for the post, and, possibly, higher posts in the future, David was imposed on the Zanu PF Midlands provincial structure.
Ask anyone from the province. They will tell you that he was imposed as the youth quota representative, a development that gave him the much-wanted opportunity to gift him a ministerial appointment.
As the Zanu PF Midlands provincial structure was preparing for its primary elections to choose a youth quota rep, aspiring candidates were surprised to be told that there would be no contest because David had already been chosen as the sole runner.
Literally from nowhere.
David was not even in the provincial structures, so there is no way in which he should have assumed a provincial position, let alone the fact that he wasn't the most active youth cadre in Zanu PF.
As you know, each of the 10 provinces was supposed to come up with one representative. In other provinces, up to four or five Zanu PF candidates contested in the primaries.
Not so with the Midlands province, where the Mnangagwa dynasty hails from. If ever you will find David' s name in the Zanu PF provincial register today, that's only because someone retrospectively and fraudulently stuffed him in.
What this says is, there was no merit on the part of David to become an MP on the basis of the youth quota because he was not qualified to stand in the first place.
In turn, therefore, David shouldn't have been appointed as a deputy minister on the pretence that he had qualified as a legislator.
But it is what it is. David is now a deputy minister, courtesy of the nepotistic appointment that also violated the Zanu PF constitution.
Same thing with Tongai Mnangagwa. You will recall that Tongai sprung from nowhere in 2018 and represented Harare South, which he won by hook and crook.
That means that, even back then, Tongai was imposed on both Zanu PF and the people of Harare South.
Prior to that, he couldn't distinguish Harare East from Harare South on the map, even if he used Google Maps on his phone a hundred times over.
That's not all. While Tongai got a new mandate to represent a gerrymandered Hunyani constituency after the August elections, that dude is mediocre.
People in Harare South hardly knew him, and he hardly knew them. He did virtually nothing for the constituency.
Now, what makes Mnangagwa think that Tongai will serve better as a deputy minister if he couldn't serve well as an MP? But this is just howling into the void.
Tongai's appointment has nothing to with service. The only service we can talk about here is him serving the interests of Mnangagwa and his family.
Africa is littered with big issues of leaders who stuff government with their own relatives and cronies and, in most of the cases, things don't end well.
Nepotistic politics, besides cultivating dictatorships, are fertile breeding ground for political instability.
You saw what happened with the Bongo clan in Gabon recently. The army kicked out the latest Bongo ruler, Ali, in a coup shortly after he controversially won a new term.
That provides a useful lesson because, even here in Zimbabwe, it's not everyone who is going to be happy with people who turn things into a family affair as President Mnangagwa is doing.
This is not to say there will be a coup here. What's there is the big potential of disruptive discontent in government, the ruling party and the populace at large.
It's no mere coincidence that where heads of state appoint their offspring and close relatives to cabinet and government, their governments are dictatorships.
Besides Omar Bongo having foisted Ali on the Gabonese, you have such other authoritarians like Teodoro Nguema in Equatorial Guinea and Congo-Brazzaville's Denis Sassou-Nguesso who have also imposed their sons in high positions.
The list is far longer, of course.
We have already talked about the scandalous re-appointment of Kembo Mohadi—a man who was forced to resign from government two years ago over reported hanky-panky with young married women—but what hasn't been done is to say how that serves the personal interests of Mnangagwa.
Clearly, Mnangagwa has deep trust in Mohadi. He can rely on him to do whatever shenanigans he wishes.
And Mohadi is a good checkmate against his other VP, Constantino Chiwenga. That's a political strategy they normally use for political self-preservation.
You want your deputies to balance things out for you. Mugabe was good at that. For instance, at one time, he appointed Mnangagwa to checkmate Joice Mujuru because he knew they were rivals.
When he was done with Mujuru, he brought in a reported blood brother, Phelekezela Mphoko, to checkmate Mnangagwa. Prior to that, he had Simon Muzenda to checkmate Joshua Nkomo.
Mnangagwa gaffed when he appointed two non-elected ministers to his cabinet and later removed them.
He did the same thing in 2018. Given the efficiency that is associated with the presidential bureaucracy in the OPC, you wouldn't expect such a mess-up, yet it happened.
This implies that the president didn't use his bureaucracy to do quality control.
It also hints at the fact that he didn't even talk to his deputies, otherwise how could three grown men overlook a basic thing like the maximum number of non-elected ministers permissible?
Granted, Mnangagwa invited the provinces to suggest names of people to go into cabinet. But, obviously, he listened to no-one but himself and some funny characters in his inner circle to do the final list of ministers.
Even if we may want to say cabinet is a presidential prerogative, you expect some measure of collective decision-making still. When someone disregards that collectiveness, you know what that person is. A lone ranger.
It's not clear why Mnangagwa did not appoint a State Security minister after the position fell vacant a long time ago.
But you are tempted to suspect that, that's because the president wants to ensure he has direct control of the ministry and what's happening in intelligence. And that's a sure ingredient for authoritarianism.
Tawanda Majoni writes in his personal capacity and can be contacted on majonitt@gmail.com
Related Topics